I purchased these cute skull beads a while back when designing for a particular theme. Since my design didn't end up getting published I will share it here. Plus I want to wear it for Halloween. :)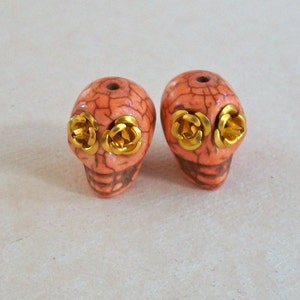 Photo credit: Fairy Mountain Supply
Aren't these the cutest peach skulls with gold flowers for eyes?!!
I pictured these as earrings so we will see how they turn out.
(Return back tomorrow to see what I created!)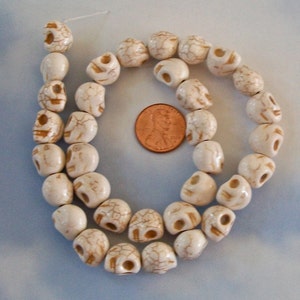 Photo credit: Fairy Mountain Supply
These little guys ended up in a necklace.
I really like how the necklace turned out...
a mix of goth glam/ goth rock edge (in my opinion lol).


To purchase these supplies visit:
Roxanne is a published jewelry designer living in California. She creates in her studio surrounded by the people and things she loves. You can find her designs at
http://www.roxidesigns.com
handmade...jewelry...vintage elements...mixed media...
"roxi designs to bring a little sunshine to your day"